I watch quite a lot of Cbeebies. I wish that I didn't. I wish I could be one of these parents that can righteously announce that my child is not allowed to watch television at all; that I instead engage them in active, learning play all day, every day. But the truth is that I have housework to do, and occasionally I just have a cup of tea to drink while it's hot, and Cbeebies acts as a handy temporary babysitter. Plus Blake truly loves staring at moving colours on a large screen; he is absolutely his father's son.
These shows have not only seeped into my subconscious as I dust the lounge, but I have also found myself occasionally watching them when Blake isn't even in the room. I have to admit that a great many of them are very educational and I am happy for my son to absorb them. For example, Alphablocks appeal to every fibre of my English nerd being, while Blake's favourite, Mr Tumble of Something Special, teaches acceptance, diversity and Makaton sign language.
However, there are other shows where the misguided attempt at education tends to come off as something altogether different. I have reinterpreted some below for your pleasure.
Balamory: All Adults are Idiots
Is your child going through the terrible twos? Threes? Fours? Are they suddenly resisting your every attempt at asserting authority? Do they watch Balamory? I have a theory that these things are not unrelated.
Balamory is about a village full of adults who are completely unable to navigate their way through daily life without having to call upon one another for help with otherwise simple tasks. Their constant questions take the young viewers on a meandering exploration of the confused adult psyche and it doesn't paint them a pretty picture.
Seriously, how can a three year old be expected to trust authority when this man is being heralded as a master inventor:
Seriously
Bing: A Simple Man Mountain (who also happens to be a rabbit)
Bing is the slightly clumsy bunny rabbit who always learns a moral lesson by the end of his five minute episodes.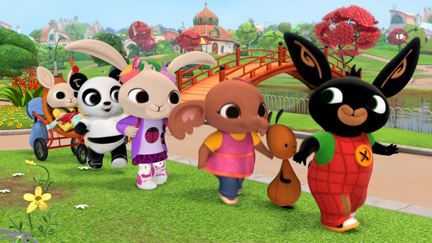 It's all very cute, and the values that Bing picks up on his way through his young life are certainly ones that you would want instilled into your child. However, the writers and animators of this series have, for some reason, seen fit to make the apparently young characters enormous while the adults are little ragdoll type... things that the 'children' call by name. Bing's guardian (they don't appear to be parents) is called Flop, and serves to reinforce the moral core to each story.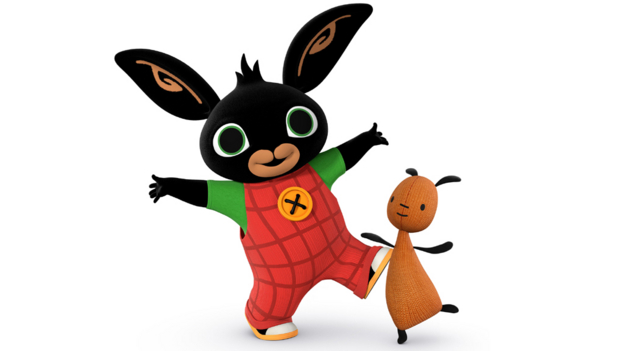 Bing, left, and Flop, right
This almost certainly artistic decision gives the viewer a very definite feeling that Bing is just a very large man-child and Flop is his slightly exasperated, but very patient, carer.
And I will not - WILL NOT - rest until someone can offer some explanation for why the panda strips down to his underpants whenever he appears on screen.
Abadas: Confusing 'Words' With 'Objects'
Abadas wants to be a programme about language. It is centred around a young boy who has a pop-up book in which three animal characters come alive and play with him. In The Word Game, Ben gives the animals a word that they do not recognise and they have to 'guess what it looks like'.
Which would be fine, except that the Abadas don't look for a word, they look for an object. For example, in one particular episode, the hippo (Harry) was searching for the word suncream. What he actually found - after telling the viewers that the sun can't get to you through water... - was a stick of suncream.
Now, maybe it's the English nerd in me getting on its high horse again, but if you asked me what the word suncream looked like, I would have to say that it looked like this: SUNCREAM.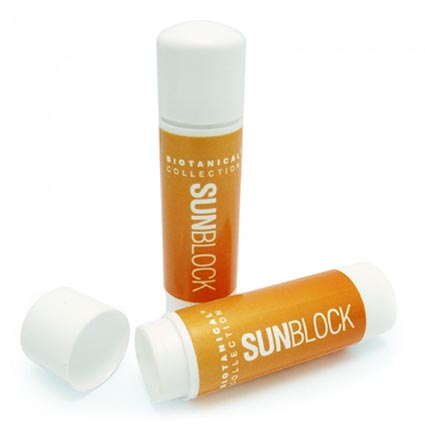 Not this.
The above picture demonstrates what sun cream, the object, looks like beautifully but in no way does it look like the word.
Mr Bloom's Nursery: Reinforcing Regional Sterotypes
I was reluctant to put Mr Bloom on this list. You see, I have a bit of a crush on him. He's ever so warm and friendly, plus he sure knows how to handle those veggies.
Cbeebies wanted to make it obvious that Mr Bloom was a gardener, so they made him look like this:
Hot.
Now, in my mind, that is quite obviously a man of the land. However, it was apparently felt that the wellies, hat and spade weren't quite enough and that Mr Bloom needed one more thing that really alerted viewers to the fact that this man toiled in the dirt. Only one thing would do: A Yorkshire accent!
Ben Faulks, who plays the eponymous hero, is from Cornwall.
Interestingly though, when Ben appears on Bedtime Stories as himself, without the accent and the wellington boots, he does nothing for me. I'm sure this speaks volumes about my mental state...
Cbeebies: a heroic babysitter, but with interesting subtexts if you dare to delve deep enough. And don't even get me started on the disproportionate number of characters who live next to the sea...